Students in general medicine and dentistry programmes will be the first to use the newly built Simulation Centre of the Faculty of Medicine of Masaryk University (SIMU) and the first to test a new approach to teaching.
"The Simulation Centre will help lower the reliance of clinical fields of study on hospitals' teaching capacities. I see it as making a fundamental contribution to modern teaching methods at the Faculty of Medicine and as a project whose uniqueness extends beyond the borders of the Czech Republic. Moreover, in the 'coronavirus era' SIMU has taken on even greater importance because it provides new learning opportunities beyond the traditional method of working with patients in hospitals. The opening of SIMU, however, is not the university's ultimate strategic objective. The next goal we seek to achieve is growth in pharmaceutical subjects, particularly in developing the potential of synergy between the natural sciences and medical fields of study", says Martin Bareš, MU rector, on the opening of SIMU.
This unique project has transformed the eastern end of the Bohunice campus. A five-story building, the home of a full simulation hospital, has been erected. This nearly 1 billion CZK investment will result in the fundamental incorporation of simulation methods into the curricula of future doctors, dentists, and other medical professionals.
"SIMU isn't just a building. It will offer new educational possibilities by introducing teaching methods that support active learning, and improve communication and decision-making skills and teamwork", says Martin Repko, dean of MU's Faculty of Medicine, adding that this project will help students in all medical programmes learn how to best work with patients before setting foot in a real clinical setting.
"Due to shorter hospitalisation periods and the growing unwillingness of patients to be treated by students, medical students are finding it harder to get first-hand experience with specific diagnoses during clinical rotations. This new form of teaching, which relies heavily on modern technologies, allows students to practice dealing with different situations, including making decisions under time pressure, but without the risk of harming actual patients", notes Petr Štourač, the director of SIMU.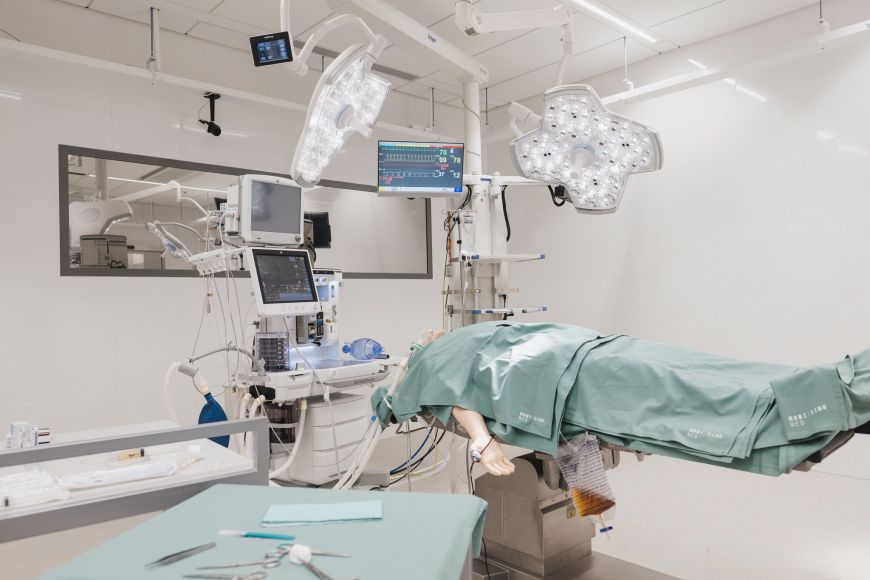 A full array of medical simulation methods awaits students at SIMU, from seemingly simple low-fidelity computer simulations, that is, virtual patients, to manual skill training programmes and advanced patient simulators that react like human bodies.
Every aid and simulated process has its place in the curriculum of medical study programmes, which, with the implementation of this project, have undergone fundamental changes and been reaccredited. All students, from those in their first year to those about to graduate, will be taught at SIMU. The first to try out the new facility will be students of general medicine and dentistry programmes enrolled in first-aid classes.
Older students, who have already experienced simulation work, might be a bit envious. "I think it definitely would have been advantageous if we had such aids and facilities available when we were first-year students", say Anna Kouřilová and Václav Vávra, fourth-year students of general medicine, who have become teachers themselves. Last year, they attended several workshops and took an examination that qualified them to teach younger students and to professionally administer first aid. "It will be more practical, more engaging, and it will definitely give our younger schoolmates more than just theoretical knowledge", promises Hana Záhumenská, another student teacher.
Students will not have large lectures at SIMU; this form of teaching has been moved online. The new centre will provide opportunities for students to work in small groups of five to six people, where they will discuss proper procedures and try out different kinds of simulators.
These include virtual patients, which are really algorithms, that help students train decision-making in clinical situations. "The Faculty of Medicine has one of the largest collections of virtual patients in the world. For acute medicine, we have 125. There are also dozens more complex algorithms for pharmacology, psychiatry, and internal medicine. They are all in Czech, Slovak, and English", explains Štourač, the director of SIMU.
Students can practice basic skills such as stitching wounds, maintaining open airways, and performing laparoscopic procedures on the most advanced types of patient simulators, which can respond to various medical interventions, such as the administration of medicine, just like a living human. They can also imitate physiological functions; they can sweat, turn blue when they are not getting enough air, and speak to students.
SIMU is fully equipped with an emergency room, including an ambulance and a heliport, two operating rooms, an intensive care unit, a birthing room, and standard hospital rooms. During their studies, students can try out everything they might encounter in a real hospital setting, from admitting patients to treating them.
"We want to use simulations wherever it makes sense to do so. One of our aims is to motivate students to discover not only what they enjoy but also what they are talented at. There is nothing worse than finding out, right before applying for a medical licence, that you've chosen a specialisation that you don't have the skills for. Maybe you don't have fine-motor skills, can't think in three dimensions, or lack certain communication skills. We believe that we will be able to objectively tell students what they are good at and what they are not so good at because they will have first-hand experience", says Štourač about the other advantages of such innovative teaching methods.
After every simulation, students will get detailed feedback in the form of a debriefing in which how they managed the situation, what they did well, and what they did poorly are evaluated and analysed.
Teachers from the Faculty of Medicine had to attend a series of training sessions led by both foreign and Czech experts to master working with these new teaching and evaluation methods. The teachers of these courses, who had to prepare intensively for them, will expect a similar level of preparedness from their students. There is no time for imparting theoretical knowledge during simulation exercises. Students who do not come thoroughly prepared will be at a severe disadvantage.
The aim of incorporating simulation techniques into the curriculum of medical students is not to fully replace contact with real patients. This is an essential part of medical training. Simulation activities help students become better equipped with skills and knowledge so that they have no need to worry about making mistakes or harming patients in clinical practise.
Have a look at SIMU in the photographs below.