Masaryk University and Brno University of Technology have agreed on the next step in the Central European Institute of Technology (CEITEC) project. The main aim of the project is to create excellent conditions for the development of biotechnology, biomedicine, advanced materials and technology. The general agreement – signed by the Rectors of both universities on 3 March 2009 – makes Masaryk University the main recipient of a grant and establishes equal partnership between Masaryk University and Brno University of Technology in project preparation.
The agreement provides for a new project structure in accordance with documents issued by the European operational programme Research and Development for Innovations, which should finance the CEITEC project. The project also has a new executive director, Tomáš Hruda, while its scientific part has become the responsibility of a scientific director; for Masaryk University this will be Jaroslav Koča, who will be responsible for the natural sciences and medicine; at Brno University of Technology Radimír Vrba will be responsible for the area of advanced materials and technologies.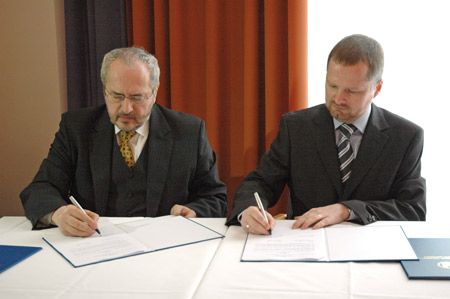 For better coordination of the project, the universities have established two interdisciplinary workplaces to operate at university-wide level: for Masaryk University this is CEITEC MU (for biomedicine and biotechnologies). CEITEC VUT has been established by Brno University of Technology.
The Central European Institute of Technology project envisages a modern centre of scientific excellence in Brno which would enhance significantly the scientific and innovative capacity of the Czech Republic and have a powerful influence on the regions of South Moravian and Vysočina.
The project has been developed with the cooperation of Brno's universities, institutes of the Academy of Sciences and departmental research institutes.
The cost of the whole project is estimated at 8.2 thousand million Czech crowns. More than 1 thousand million of this is dedicated to the construction of buildings, while about 6 thousand million is absorbed by the costs of equipment and almost 1 thousand million by the start-up of research projects.
To find out more, go to: www.ceitec.cz