Ukrainian students enrolled at Masaryk University are anxiously following the news out of their country. M Magazine spoke to two of them about the current situation.
Yulia Dumenko is a student at the MU Faculty of Social Studies and has lived in the Czech Republic for 11 years. She has dual citizenship – Ukrainian and Czech.
"I consider Ukraine to be my homeland, and this situation has affected me deeply. As a student of international relations, I tried to assess the situation critically, and to the very last minute I thought that war could be avoided through diplomacy. That is what we all wished for. Unfortunately, the West has shown once again how weak it is compared to Putin's efforts to restore the empire. I think the biggest problem is that in Russia they don't know and don't want to know what democracy is. Tsarism is their natural state. But in this situation I emphasize most with ordinary people, both Ukrainians and Russians. I firmly believe that Ukraine will stand its ground."
Iryna Ravliuk studies at the MU Faculty of Arts, and she wants to call the world's attention to the situation in Ukraine through the media.
"Honestly, I can't believe that such things have happened in the 21st century. I read the news almost once an hour, and I have to say that I'm really worried about my family, relatives, and friends, who are in this critical situation. I regret that I am not there with them now and I can't help. The only thing we Ukrainians abroad can do is try to get the world's attention. And I was truly elated to find out how many people in the Czech Republic support us. Above all, Masaryk University, which has not only flown the Ukrainian state flag but has also offered psychological counselling to students from Ukraine. I truly appreciate it, and I hope that everything will end soon."
On Thursday evening, Masaryk University students decided to respond to the situation and spontaneously organized a procession from the MU Faculty of Social Studies to the Russian Consulate in Brno, where they expressed their opinion and disapproval.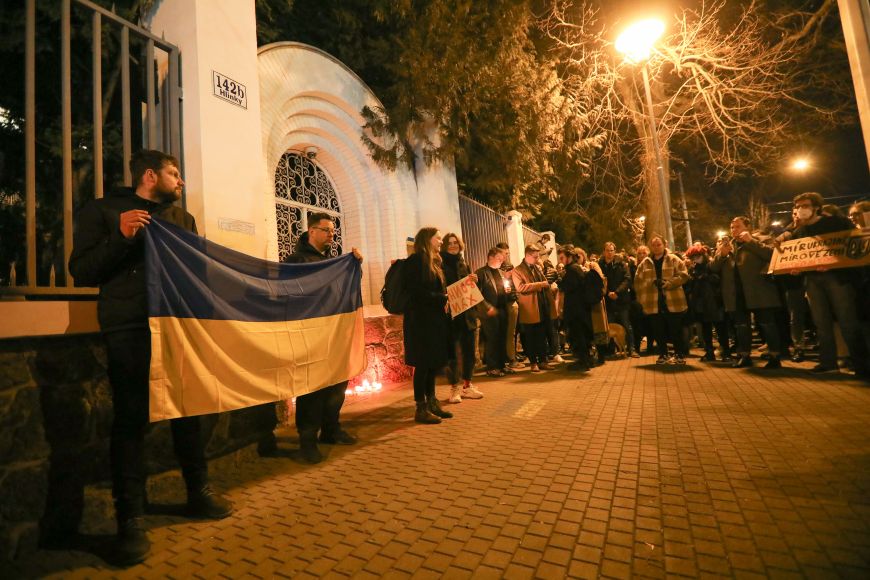 MUNI HELPS UKRAINE. You can help Ukrainian students and academics by donating money to support educational and humanitarian efforts. You can make a donation through the MU Shopping Center. You can find out how much money has been collected so far on the MUNI HELPS website.