If you have already been to the Mendel Museum before but want to learn more about the founder of genetics, Gregor Johann Mendel, you now have another reason to revisit the museum. After almost two years of preparation, the museum – located on the grounds of the Augustinian Abbey in Old Brno – has opened a brand new exhibition that seamlessly builds on the former exhibition space.
The exposition shows the visitors the secrets of the cell nucleus, and they will learn interesting facts about Mendel's experiments, discoveries and the foundations of genetics and molecular biology. The exhibition will delight children and adults alike with its interactive elements and interesting models designed by imaginative MU students. Studio M+ transformed their ideas into real exhibition pieces.
"Our aim is to guide visitors from the cell mechanisms, through Mendel's findings, to the basic principles of molecular biology. Even 200 years later, Mendel's legacy has not lost its relevance and his life continues to inspire new generations of people. We would be glad if our new exhibition helped students and young scientists learn how to communicate their discoveries to the public in an understandable and relatable way," said Eva Chocholová, the exhibition's chief curator, adding that the designers of the exhibition have also reserved space at the end for a regularly updated presentation of research conducted at Masaryk University.
"I believe that our exhibition will continue to expand and grow and that all these innovations will entice visitors to not only visit the museum but also learn about Mendel's legacy," added Eva Chocholová, who studied molecular biology at the Faculty of Science of Masaryk University and is now pursuing her PhD in molecular and cell biology and genetics.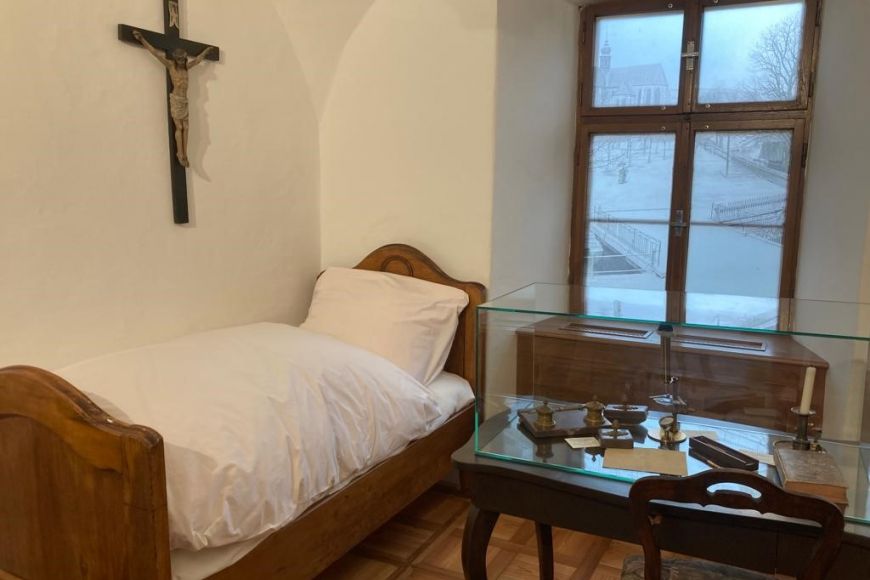 In addition to the new exhibition, visitors to the museum have the opportunity to travel back in time to the first half of the 19th century and experience the atmosphere of the place where Mendel wrote down the results of his experiments – this is because the tour includes a visit to his original study room on the abbey's first floor.
At the exhibition's ceremonial opening, Šárka Pospíšilová, MU Vice-Rector for Research and Doctoral Studies, also mentioned the fifteen Nobel Prize winners who have visited the Mendel Museum on various occasions and whose messages and signatures can be viewed in one part of the exhibition. She also conveyed an invitation to the interdisciplinary Mendel Genetics Conference, which will be the crowning event of the celebrations of the 200th anniversary of Gregor Johann Mendel's birth.
The public can visit the new permanent exhibition 'Genetics: The Wonderful Journey into the Cell Nucleus' from 31 May.