SYRI is funded under the National Recovery Plan and will focus on nine research areas, bringing together scientists from Masaryk University, Charles University and the Czech Academy of Sciences. Research consortia in the Czech Republic have so far operated mainly in natural science disciplines, so this cooperation in social sciences is something of a novelty. According to MU Rector Martin Bareš, SYRI will be one of the most important pillars underpinning modern society.
"The Covid-19 pandemic, energy crisis, inflation and the war in Ukraine have affected all people's lives over the past three years. Crises always represent a burden that brings stress and worry and has the capacity to destabilise society. It is precisely at times of major crises like the ones we are facing now that science offers the best tools enabling us to find answers to questions, provide insights and offer solutions to prevent negative outcomes. Science makes a major contribution to improving society's resilience. That is why we are glad that SYRI has been established and that Masaryk University and its experts play an essential role in its operation," rector Bareš said at the institute's launch conference held in the Scala University Cinema on 12 October.  
"I personally do not see SYRI as just another project, but as a beginning of the road to an institute that could become the 'CEITEC of humanities', so to speak. CEITEC is a really important institute whose reputation goes far beyond our university and the borders of South Moravia and the Czech Republic. That is why I will direct my efforts towards the continued development of this institute, both within our university and in cooperation with our partners even after the project's funding period ends," concluded Bareš.
SYRI researchers will investigate current risks and, based on their findings, make public policy recommendations in various areas such as the economy, healthcare and education. "We want to do cutting-edge science that also brings an immediate benefit," said SYRI's scientific director Klára Šeďová, whose team will benefit, among other things, from an exceptional database.
According to Deputy Minister for Science, Research and Innovation Štěpán Jurajda, the establishment of the institute will lead to an increased performance of Czech social sciences in international comparison. He noted that so far, the support for research in social science disciplines has been low in the Czech Republic compared to other fields and countries. "SYRI is an important pioneering project in this respect and it responds to the need to collect more data, which is essential for analytical support of public decision-making during and after crises," Jurajda said, adding that one of the institute's goals is to increase the performance of Czech social sciences in international comparison. In his view, a greater impact and role of social sciences also depend on the success of the reform of access to public administration information and databases, specifically on the approval of the substantive intent of the Public Data Management Act.
The South Moravian Region is preparing for long-term cooperation with SYRI researchers. "Improving the quality of public services is one of the priorities of the South Moravian Region. It is important to be able to work better with data and to be able to conduct an experimental evaluation of different public policies and approaches. I see great potential for SYRI's involvement in our region, for example in the area of education, where SYRI brings a unique capability in the Czech context – verification of the effectiveness of various teaching methods and conditions," said Jiří Nantl, Deputy Governor of the South Moravian Region.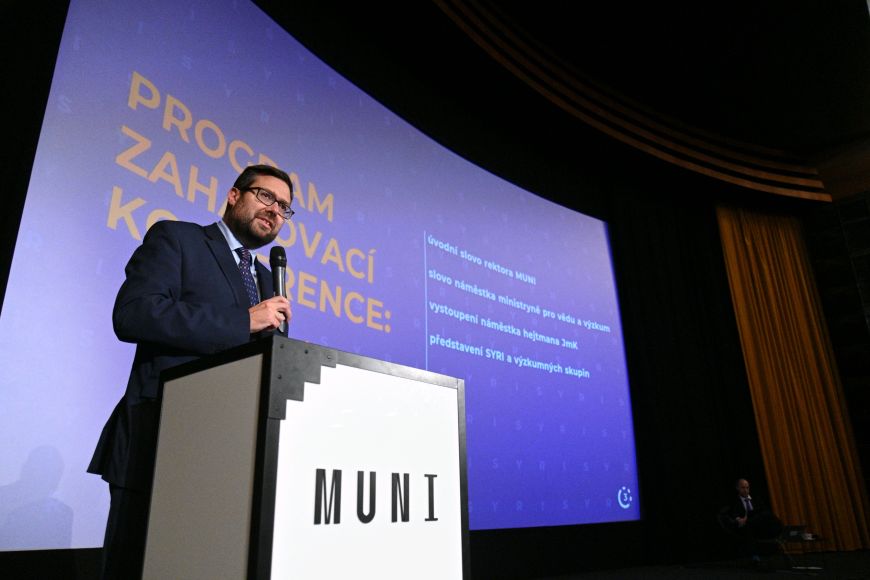 SYRI's three main project areas that will be investigated at MU include 'Law and governance', 'Education and impacts of the pandemic' and 'Effectivity of the health care system'.  
Detailed information about SYRI is available on its website.