Erasmus+ is an amazing programme – it gives students and staff at universities throughout the EU the opportunity to study or train at another university in Europe. But with potentially every country in the EU to choose from, how do you decide where you want to go? Do you go to one of the most popular cities, or do you try somewhere a bit different in the hope of discovering somewhere that will give you an experience that you will cherish forever?
For me, a Media and PR Officer at the University of Sheffield in the UK, I knew I wanted to go on an Erasmus exchange to the Czech Republic because outside of work I'm learning Czech, so it would be a great opportunity for me to practice the language. I also thought it would help me in my role at Sheffield, because like the Czech Republic, Sheffield is not the most obvious place to study for international students, so I was interested to see how a Czech university competes with the more popular European destinations for students.
Prague is often the obvious choice when thinking of going to the Czech Republic, so I wanted to try somewhere different. Like here in the UK, London is very different to the rest of the country, so I thought it will likely be the same with Prague – I wanted to see the real Czech Republic, so I decided to go to Brno, the second largest city and from what I've heard from Czech people I've encountered in my studies is a much more interesting place!
I was fortunate enough to be accepted onto a staff training programme at MU, and after spending a week there, I can say my Czech friends were right – I love Brno so much! Everyone I met at MU was really nice, welcoming and did everything they could to help me get the most out of my time there. They are also incredibly talented people who shared an insight into their work, which will help me in so many different ways back in Sheffield.
The city of Brno was equally as friendly and is such an interesting place. It has everything you'd expect from a city – awesome shops, nice little bars and cafes, plenty of history to delve into – but it just has this quite chilled, friendly, elegant vibe running through everything that is so nice to live in. It doesn't have crowds and huge numbers of tourists like Prague does, it's just a beautiful city living its day-to-day life. You really do feel that you're in the heart of central Europe, especially with cities such as Berlin, Vienna, Budapest and Krakow only a few hours away.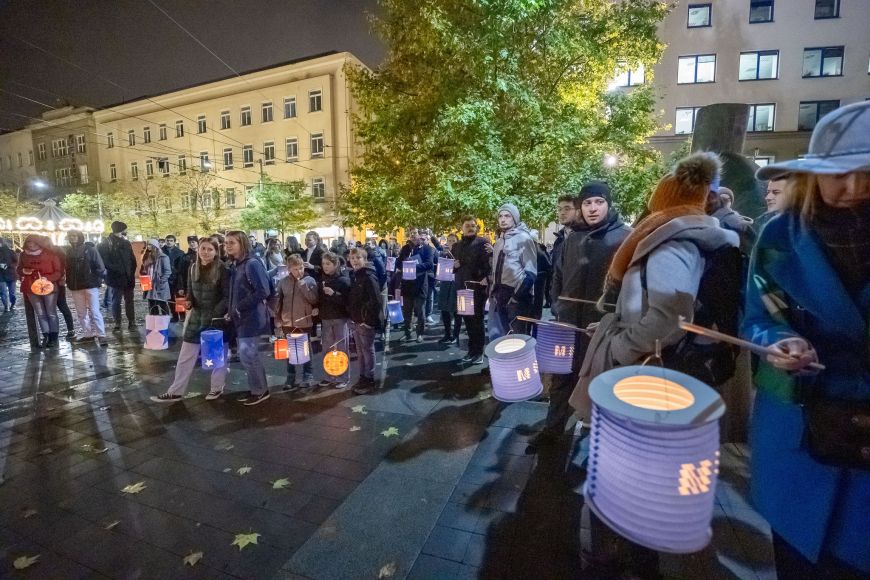 As a student of the Czech language, one of the most interesting and memorable moments of my time in Brno was being in the city as it commemorated the anniversaries of International Students' Day and the Velvet Revolution on 17th November. Students and staff from MU were hugely affected by both events and so MU plays a major role in how the city marks the anniversaries today.
One such event is a lantern parade, which the University leads from Náměstí Svobody – the city's main square – to the buildings of MU faculties that were affected by the events of 17th November in both 1939 and 1989. The parade briefly paused outside of each building while student leaders shared stories about how staff and students from the faculty were affected. It was incredibly humbling and moving, but something I'm so grateful I got to experience, and I'd encourage anyone to join the parade if they are in the city during the anniversaries in future.
After spending a week in Brno, I can already see how much of a special place the city is. If you're thinking of studying at MU or going there on an Erasmus exchange programme, then do it, you won't be disappointed. In fact, I'm off to look for some flights now, I can't wait to visit again!