A total of 12 student projects were presented in the final round of the Start Your Business competition, of which 8 received funding in the form of scholarships for their further development. The highest support of CZK 100,000 was finally awarded to two student ideas: the sports travel agency Sportbud by students Matúš Longauer and Lukáš Vránek from the Faculty of Sports Studies and the Attachi application for personal relationship management with artificial intelligence elements by Robin Chmelík, a student from the Faculty of Informatics. "The decision to enter the competition gave us a huge boost to start taking real steps in our project. We would like to sincerely thank the organisers and the entire university for directing us to do so," said Matúš Longauer from the top-awarded Sportbud project in his thank-you speech at the awards ceremony.
All finalists received their awards and commemorative plaques from the hands of the Vice-Rector of Masaryk University, Martin Kvizda, on Friday, 9th June, in the presence of the competition partners.
"Masaryk University strives to develop interdisciplinary competencies in its students. The labour market is changing and evolving rapidly, so we decided to support students in their entrepreneurial journey through the competition. Thanks to the competition, they will gain invaluable experience, and the best will be provided with a financial basis for implementing their ideas," explains Martin Kvizda, the guarantor of Start Your Business and MU Vice-Rector for Lifelong Learning and Commercial Cooperation.
The next edition of the competition will be announced at the beginning of 2024; details of the competition, including a list of successful participants, are available on the website http://podnikavost.muni.cz.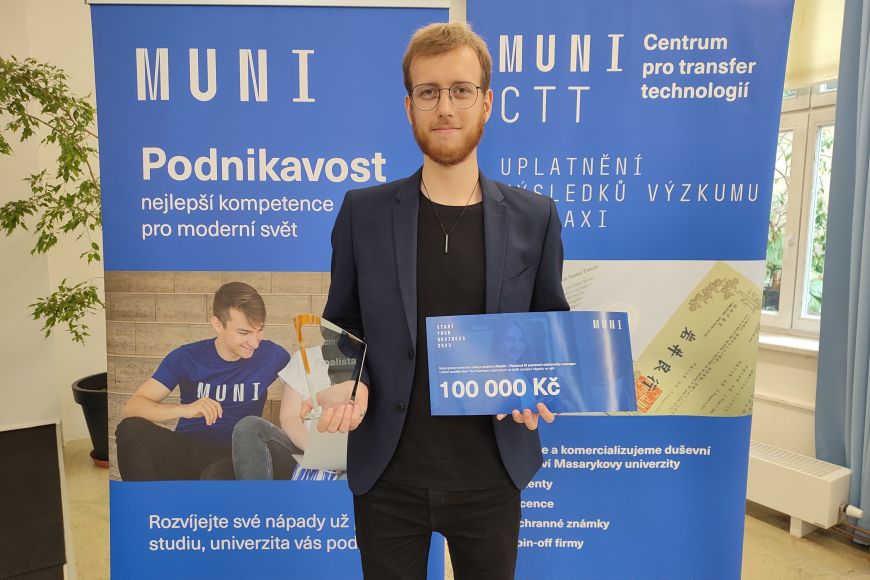 Awarded projects in 2023:
Matúš Longauer and Lukáš Vránek (Faculty of Sports Studies) for project Sportbud (CZK 100 000)
Robin Chmelík (Faculty of Informatics) for project Attachi – Personal AI powered relationship manager (CZK 100 000)
Ondřej Buček (Faculty of Economics and Administration) for project AndělskáSlužba.cz (CZK 50 000)
Ondřej Sukač (Faculty of Science) for project Galenio (CZK 50 000)
Sandra Thalerová (Faculty of Science) for project Makronky Art (CZK 50 000)
Benedikt Šujan a Dalibor Heblák (Faculty of Economics and Administration) for project Nášup (CZK 50 000)
Projects awarded for social relevance:
Josefína Slámová a kolektiv (Faculty of Arts) for project Czech Psychodiagnostic Database (CZK 100 000)
Denisa Jelínková a kolektiv (Faculty of Education) for socially inclusive production KreatiF (částka 20 000 Kč).