This academic year sees the arrival of thirteen US scholars at Czech universities and research institutions through the prestigious Fulbright Program. Five of them – more than a third – chose to stay at Masaryk University in Brno. Muni even attracted more Fulbrighters than Charles University, which is hosting four American recipients of the grant.
The remaining four Fulbrighters are going to the Czech Academy of Sciences, Czech University of Life Sciences in Prague, Czech Technical University in Prague, and Palacký University in Olomouc.
Three Fulbrighters for the autumn, two for the spring
Each of the five Fulbrighters will spend one semester at Masaryk University. They are a very diverse group: for the autumn semester, journalist and Pulitzer Prize winner Stephen Doig from Arizona State University is teaching at the Faculty of Social Studies, while the Department of Mathematics and Statistics at the Faculty of Science is hosting Tibor Beke from the University of Massachusetts, and the Department of English and American Studies welcomes Justin Robinson Hall from California College of the Arts.
In the spring semester, Prof. Schuyler Foerster from the United States Air Force Academy will come to the Faculty of Social Studies. Also coming is artistic director Gene Joseph Terruso from the University of the Arts in Philadelphia, who currently teaches at the Faculty of Theater at Janáček Academy of Music and Performing Arts in Brno.
The reasons why the US scholars chose the Czech Republic are as diverse as the scholars themselves. Tibor Beke came to Brno thanks to his longtime collaboration with the Masaryk University Faculty of Science. "I started working with the Department of Mathematics and Statistics as early as the late 1990s, when I came across an interesting publication by Professor Rosický from Masaryk University while writing my dissertation at the Massachusetts Institute of Technology," says Beke. "This collaboration ultimately brought me to Brno this fall."
This semester, Beke is teaching Geometric Applications of Model Theory at the faculty. As he says, "Before I started, they were warning me that Czech students are mostly passive and remain silent during the classes, but I haven't noticed anything like that. My class is full of enthusiastic students who are a pleasure to work with."
Comics author Justin Hall has a similar impression of the Masaryk University students. He was surprised by their energy and active participation in the classes. In the US, Hall works at an arts college, so teaching the course "Graphic Novel: History, Analysis, Context" to students of non-artistic disciplines came as a nice change. "Some of the students were a bit nervous at first about drawing and telling stories though pictures, but I must say that their work is really great," says Hall.
Just like Beke, Hall came to Brno through longtime contacts. "However, they weren't really my contacts, but those of my US colleague Rebekah Bloyd. She was a Fulbrighter at the MU Department of English and American Studies in 1999. She fell in love in Brno and keeps coming back. When she suggested that I could come here to teach a topic that attracts more and more academic attention, I could not refuse," he explains.
Hall aims to get the most out of his stay in the Czech Republic. He would like to meet some of the Czech comics creators in Prague during the upcoming months to expand his international network of contacts. He is also planning lectures in Zlín and probably also in Olomouc and Ústí nad Labem.
Pulitzer Prize winner teaching at the Faculty of Social Studies
Stephen Doig, an American journalist and Pulitzer Prize winner and currently a visiting scholar at the Faculty of Social Studies, where he teaches two courses – Data Journalism and Reporting Public Affairs – is also trying to extend his lecturing outside the Masaryk University during his stay.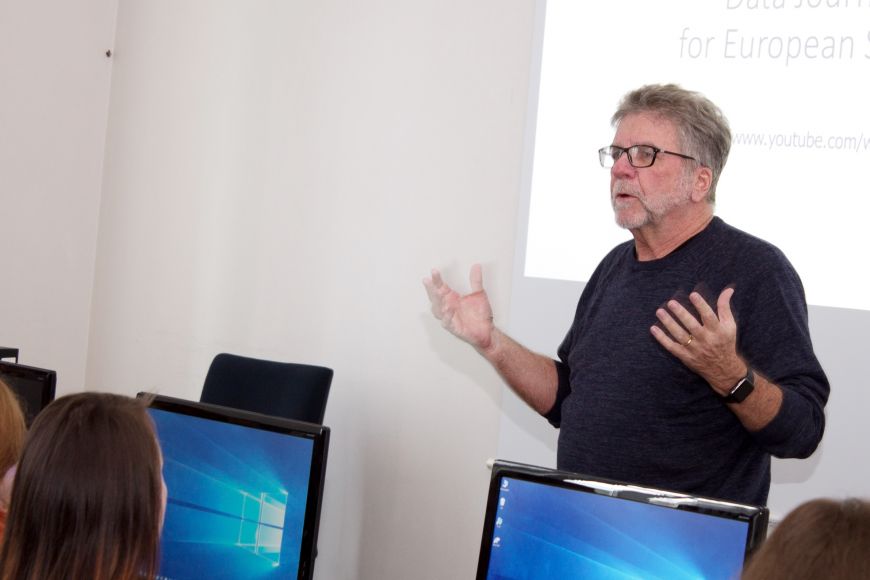 He recently gave a talk about the Role of Media in US Presidential Elections at the US embassy in Prague and later spoke at a Prague conference that attracted 250 European journalists and other media experts. "We are also planning a lecture in Olomouc for journalism students. And I was invited to the US embassy in Prague on the night of 8 November to comment on the results of the US presidential election," says the professor, who otherwise teaches at Arizona State University.
The Fulbright Commission has been active in the Czech Republic for 25 years. During that time, almost 900 Czech students, secondary school teachers, university lecturers and researchers have travelled to the USA and more than 700 of their US colleagues have come to the Czech Republic to teach or do research.