Vice-rector for Research and Doctoral Studies Šárka Pospíšilová presented to its recipients the second MUNI Scientist Awards for excellent results, which is part of the activities of the Grant Agency of Masaryk University. While last year the award presentation ceremony took place virtually, this year's event ceremony was held under strict preventive regulations with the actors present – in the Mendel Refectory at the St. Thomas's Abbey. Thirty-nine scientists attended a modest ceremony thanks to their exceptional results in research last year. Combined with their colleagues who received their awards last year the number of the recipients of this award has now exceeded seventy, and the number will keep growing in the upcoming years.
The event included the evaluation of activities of the Grant Agency of Masaryk University. "We are glad that, for eight years now, we are able to support through our grant agency excellent projects of our scientists and help them reach prestigious external projects, especially abroad. Moreover, it has helped us attract many excellent scientists from other countries, including recipients of ERC grants. We are happy to be able to support scientists who want to re-join the research activities at Masaryk University after some time off in their career due to maternity or parental leave," Pospíšilová said.
MUNI Scientist recognises scientists for results and significant achievements in the area of research; the purpose of the award is to motivate scientists to excellence in research and the improvement of the reputation of Masaryk University in the science community and towards the general public. Nominations are submitted by vice-deans for science and research of all ten faculties, directors of institutes, head of the Research and Development Office of the Rector's Office and the Vice-Rector for Research and Doctoral Studies.
This year's recipients of the MUNI Scientist Award:
Barbora Bühnová – Award received for international scientific reputation, edification activities and top-quality publication. She was appointed chairwoman of the steering committee of ICSA (International Conference on Software Architecture) and deputy chairwoman of EUGAIN, European Network for Gender Balance in Informatics.
David Bednář – Award received for the creation of stable protein database FireProt (DB) which is used, along with FireProtASR, thousands of users globally. Both databases contain data allowing for the development and testing of new computing tools.
Marcela Buchtová – Award received for excellence in publication and for the foundation and development of a new field of study Developmental biology at the Faculty of Science allowing for the study of developmental biology on a great variety of model organisms, thereby making the field of study very unique within the system of tertiary education in the Czech Republic.
Miloš Dokulil – Award received for work on the hidden legacy of one of the most important thinkers of the 20th century, the Brno-born Kurt Gödel, and his possible religious views as the author of the modal logic version of evidence of divine existence.
Olga Dontcheva-Navrátilová – Award received for publication titled Persuasion in Specialised Discourses, a first study offering complex comparative analysis of strategies in persuasion and their language realisations in English and Czech professional discourses.
Jiří Filipovič – Award received for article titled CaverDock: A Novel Method for the Fast Analysis of Ligand Transport.
Ivan Foletti – Award received for publication titled Byzantium or Democracy? The Heritage of Nikodim P. Kondakov in the Experiences of André Grabar and the Seminarium Kondakovianum (1925–1952) and Objects, relics, and migrants: The Basilica of Sant'Ambrogio in Milan and the cult of its saints (386-972), as well as for the coordination of the project entitled MSCA-RISE (Marie Skłodowska-Curie Actions, Research and Innovation Staff Exchange) and the role of supervisor in the project MSCA-PF (Marie Skłodowska-Curie Postdoctoral Fellowships in the H2020 programme).
Miloš Gregor – Award received for publication titled Political Communication and COVID-19: Governance and Rhetoric in Times of Crisis.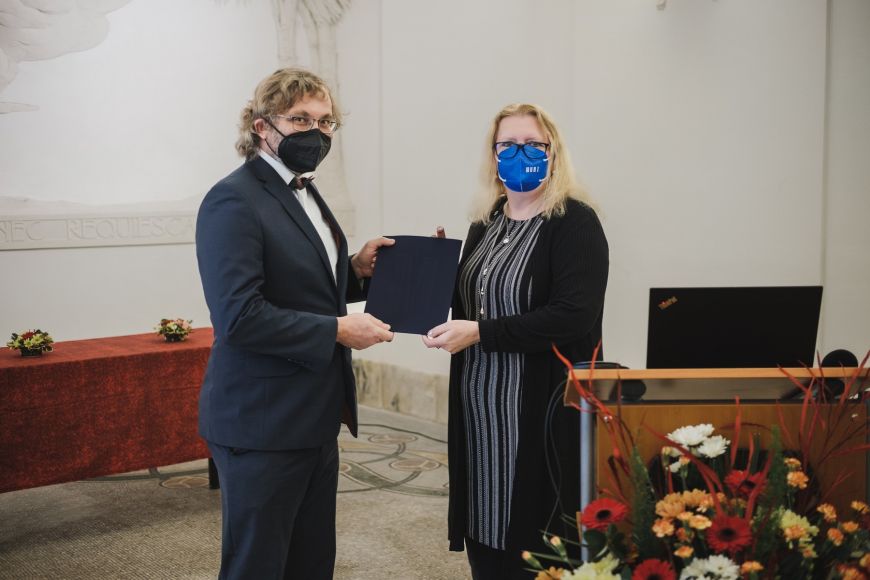 Michal Hájek – Award received for research into the values of pH and calcium in ground water as key factors for the forecast of biota of endangered wetland ecosystems fuelled by ground water.
Stanislav Hronek – Award received for work entitled O(D, D) and the string alpha' expansion: an obstruction.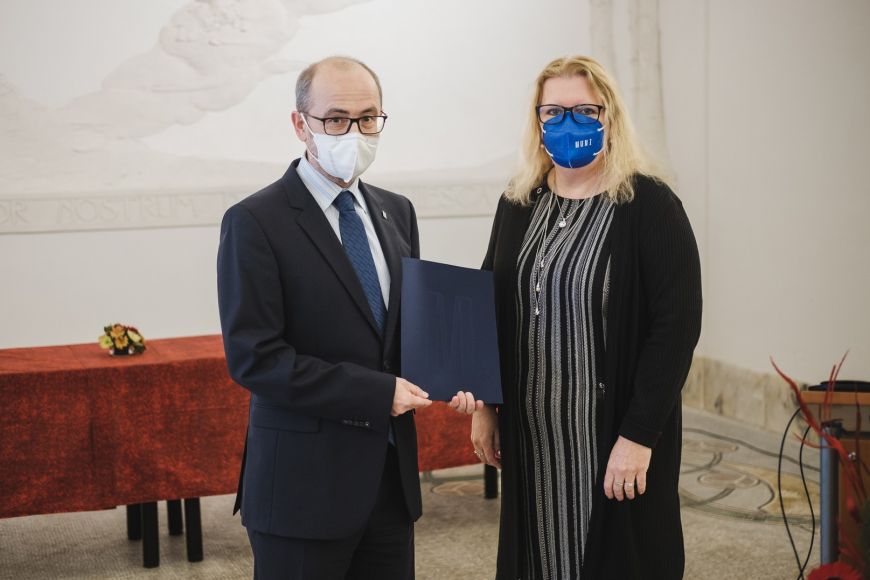 Milan Chytrý – Award received for the review of the EUNIS classification of European habitats, including the development of an expert system and detailed characteristics (awarded along with a team of plant biologists).
David Kosař – Award received for the awarding of a prestigious second ERC Consolidator grant titled Informal Judicial Institutions: Invisible Determinants of Democratic Decay (INFINITY). What makes this achievement even greater is that Kosař had previously won a ERC Starting grant.
Barbora Kozlíková – Awarded as an internationally respected expert in data visualisation and founder of the VisItLab visualisation group. In 2021 she co-authored four articles in the peer reviewed IEEE Transactions on Visualization and Computer Graphics.
Lumír Krejčí – Award received for article titled RAD51-dependent recruitment of TERRA lncRNA to telomeres through R-loops published in the Nature magazine.
Pavel Krejčí and Michaela Bosáková – Award received for study published in Science Translational Medicine documenting developments in the treatment of achondroplasia.
Ivan Kushkevych – Award received for article in Journal of Advanced Research on the synergic effect of hydrogen sulphide and acetate produced by sulphate reducing bacteria on the onset of inflammatory intestinal diseases.
Jiří Macháček – Award received for article in Journal of Archaeological Science dealing with a new standard in the interdisciplinary analysis of bones and for research into the onset of multiethnic complex society in early Medieval Moravia.

Jitka Malčíková and Šárka Pavlová – Award received for the coordination of international activities in the area of research and laboratory diagnostics of leukaemia and publication in the Blood magazine.
Miriam Matejova – Oceněna za článek Embracing the Darkness: Methods for Tackling Uncertainty and Complexity in Environmental Disaster Risks.
Štěpán Mikula – Internationally respected expert in mobility and migration, award received for co-authorship of article on the long-term effects of resettlement in Sudetenland on residential migration in the prestigious Journal of Urban Economics.
Marek Mráz – Award received for article titled miR-29 Modulates CD40 Signaling in Chronic Lymphocytic Leukemia by Targeting TRAF4: an Axis Affected by BCR inhibitors published in the Blood magazine.
Matěj Myška – Award received for breakthrough work on restrictions of copyright protection and his contribution to works on copyright and cybernetic law. Under is management Review of Law and Technology has become the most respected Czech magazine in the area of technology law.
Stanislav Pekár – Award received for research on the use of spiders in battling pests, as predators or for the potential of their venom in the development of biopesticides.
Matthew Rampley and Nóra Veszprémi – Award received for book titled Liberalism, Nationalism and Design Reform in the Habsburg Empire: Museums of Design, Industry and the Applied Arts.
Irena Rektorová – Award received for a study in which she, and her team, proved the long-term effect of non-invasive brain stimulation using pulsing magnetic field on speech impediments in patients with Parkinson's disease; she also managed to discover a new dynamic electrophysiological marker of the prodromal stage of the disease.
Karel Říha – Award received for article titled Nonsense-Mediated RNA Decay Factor UPF1 Is Critical for Posttranscriptional and Translational Gene Regulation in Arabidopsis on the significance of the UPF1 helicase.
Thomas Smith – Award received for article titled Social transformation and postcapitalist possibility: Emerging dialogues between practice theory and diverse economies published in Human Geography, which is supposed to be the starting reference point for future multidisciplinary research into social innovations, social transformation and heterodox economy.
Hana Stehlíková Babyrádová – Award received for publication titled Connection – Contact – Community. Permanent on-line in Education of Art. Her article deals with the need of the use of post-production as creative principle in visual art as well as pedagogy.
Klára Šeďová – Award received for publication titled Getting Dialogic Teaching into Classrooms. Making Change Possible and the success in the GACR President's Awards.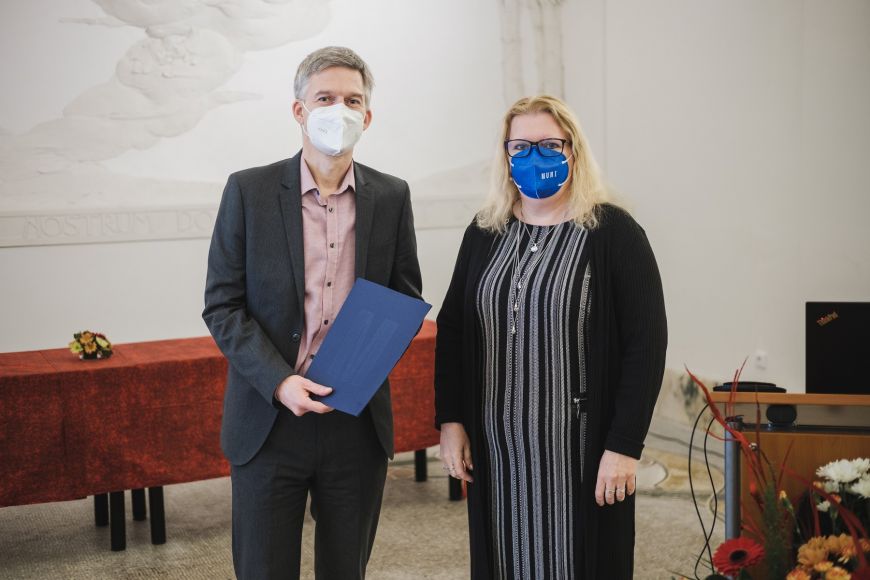 Vladimír Šindelář – Award received for research into bambusurils, which also succeeded in the GACR President's Awards.
Mojmír Šob – Award received for excellent long-term research thanks to which he is among 2% world's most frequently cited scientists. His research into the application of quantum-mechanics calculation techniques on the study of properties of new perspective materials is widely recognised and many leading scientific groups follow in his footsteps.
Lukáš Trantírek – Award received for the discovery of new DNA topology. Trantírek and his team have described a yet unknown structure of DNA revealing the principles of G-rich oligonucleotids which can be applied in the prediction of natural and the design of artificial elements of DNA.
Robert Vácha – Award received for results of research in the area of antimicrobial peptides. In 2020 he won the prestigious ERC Consolidator grant for the study of molecular mechanisms on whose principle these peptides destroy drug-resistant bacteria.
Branislav Vrana – Award received for research into the pollution of water with organic compounds and the development of tools for the monitoring and evaluation of risks.
David Zbíral – Award received for the winning of the ERC Consolidator grants titled Networks of Dissent: Computational Modelling of Dissident and Inquisitorial Cultures in Medieval Europe bordering history and computer social sciences dealing with the development of religions from local interactions, the working of hidden networks and their suppression in pre-modern societies.