On October 13th Masaryk University awarded two honorary doctorates in the Aula of the Faculty of Law. The recipients represent two seemingly very distant fields – musicology and transport economics.
Michael Beckerman is a professor of music. He holds academic degrees in philosophy and art from Columbia University. He has since worked at the University of California, the University of Chicago, Washington University and Charles University in Prague. Between 2010 and 2012 he was vice president of the American Musicological Society. Currently, he is the department chair at New York University.
He has devoted a significant part of his professional career to Czech music and Central European musical culture in general. His bibliography includes professional publications as well as excellent analyses, magazine articles for the general public and frequent TV and radio appearances. A conference on Leoš Janáček and Czech music he organised in St. Louis in 1988 has become legendary in terms of its programme. Being an excellent musician and pianist he managed to combine a deep understanding of music with brilliant theoretical reflection.
An interview with the respected musicologist can be found in M Magazine.
The second fresh laureate is Christopher Alfred Nash from the Institute for Transport Studies of the University of Leeds, one of the most respected experts in transport economics. He holds degrees in economics and transport economics from the University of Reading and Leeds University.
Throughout his professional career, Professor Nash has significantly influenced the development of a variety of fields in transport economics; his scientific work has long steered research in this area. As such he is one of the most frequently cited experts in transport. He has participated in the creation of three key areas: optimal structure of the railway sector, economics of high-speed railways and the reform of railways during the last thirty years.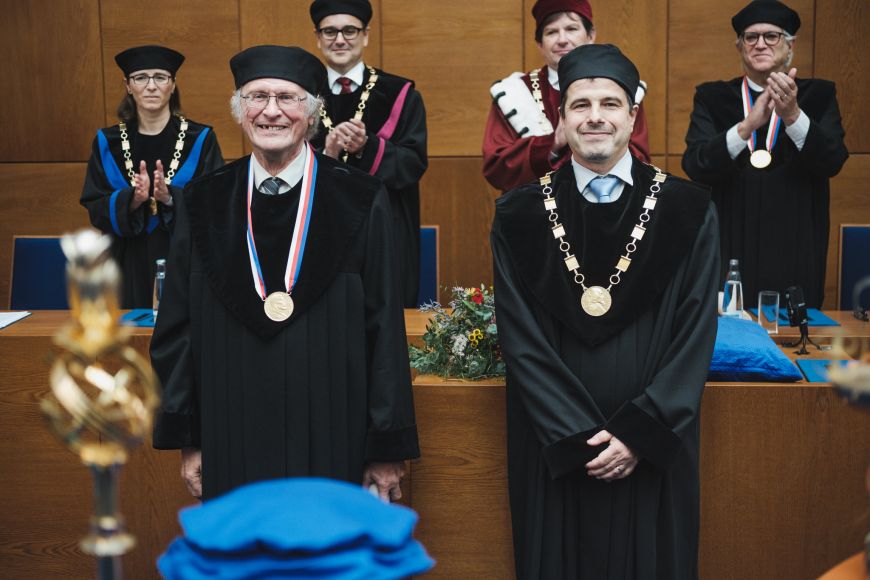 He was a consultant to the UK Parliament, the European Commission and the European transport ministers group. His PhD. students now hold leading academic and corporate positions in institutions all over the world. 
More on his activities in Brno and the potential for the construction of high-speed railways in the Czech Republic can be found in an interview prepared by the Faculty of Economics and Administration.