The reunion, titled Homecoming 2022: Keep Brno in Your Genes, honoured the 200th birthday of Gregor J. Mendel. It was also the official kick-off of a new initiative aimed at developing collaboration with international graduates.
"There are hundreds of MU graduates all over the world, and it is crucial for us to stay in contact with them. Not only so that we know how they are doing in their personal and professional lives after graduating, but also so that they can help us spread the word about MU abroad and also attract new students – for example, by talking about their experiences at MU at trade fairs or at universities in their home countries," explained Violeta Osouchová, the director of the CZS.
The CZS invited international graduates who finished their studies several years as well as graduates who spent most of their time at MU online due to the pandemic and therefore did not have the opportunity to get to know their classmates.
"I'm really glad that MU remembered us and organized this very successful graduate reunion. It was a great opportunity to meet lots of interesting people from around the world and hear about where people are working now and see how they become successful in their carrier after studies at MU," says Iman Mehmandoust, who after completing his master's degree Applied Informatics and stayed in Brno after his studies.
Alumni reunion gave international graduates reason to come back to Brno
The international graduate reunion also attracted former students who took part in exchange programmes at MU, such as Erasmus+, through which more than 8,000 European students have studied at MU during the past 25 years. For example, German Felix Metz, who spent a semester at the Faculty of Education, returned to Brno for the first time in three years. "It's great to come back to a place where I spent a wonderful semester, to meet my classmates again, and see how Brno has changed," says the former Erasmus student.
Four friends who studied together at MU also met at the reunion: Veronica Sturup Blanco from Spain, Elanie Traynor from Ireland, Connie Bowman from Great Britain, and Connor Psyck from the USA, who now lives in Prague, where he teaches English.
"We are very glad that MU organized this reunion because it gave us a reason to finally come back to Brno. I've wanted to meet up with my friends for several years already, but it was always a bit of a problem to pick a date, so MU picked one for us. Plus, it was a weekend, and we were all free. We're really happy that we could finally meet. And the weather was great, too, so what else could you want?" explained Veronica Sturup Blanco.
Besides the Friday barbecue, international alumni could also look forward to a puzzle hunt in the city, a presentation about the new alumni programme, and a party in Artbar on Saturday. MU launched the alumni programme at the start of the new academic year, as well as a new webpage for international graduates, where they will find information about alumni benefits and the stories of MU graduates.
"And of course, we are planning much more, from regular international alumni reunions to sending out newsletters and collaborating with fresh graduates who will become our ambassadors. Moreover, many MU alumni stay in Czechia after graduating, and they can request an alumni card, which entitles the holder to many benefits, such as discounts on courses and free access to all University libraries. For those who have left Czechia, we are going to be introducing a discount on accommodations, and we are planning other benefits," said Jakub Motyčka, Head of the Division for International Marketing of the CZS.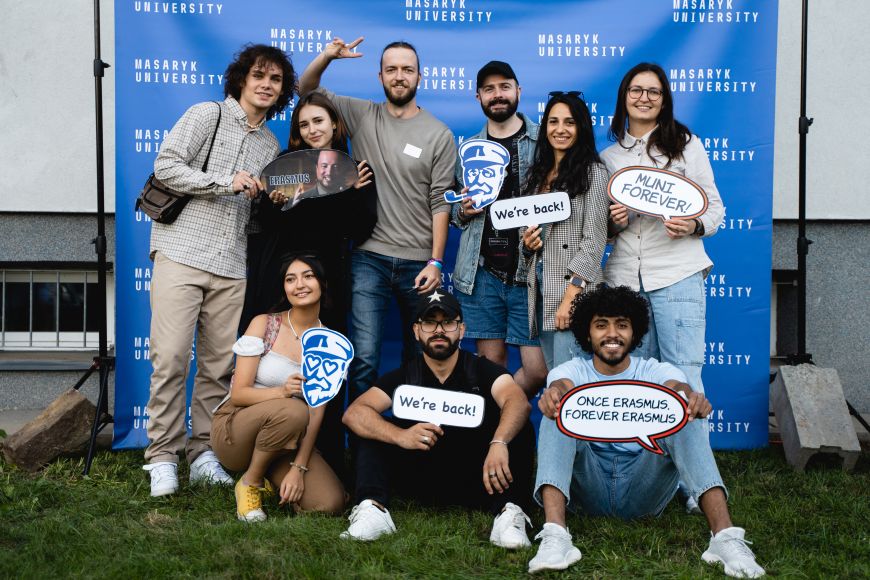 The second alumni reunion
This is the second international alumni reunion that Masaryk University has held. The first Homecoming event took place in 2019, when the University celebrated its 100th birthday. One-hundred-fifty graduates from 28 countries, including Australia, the Philippines, the USA, and Brazil, attended a barbecue.
This year, about 50 former students from 25 countries took part. Most were from Europe, but they also came from Afghanistan, the USA, Jordan, Malawi, and Mexico. In attendance were also more than 20 employees from the international departments of MU's faculties and from the CZS, with whom these former students were frequently in contact with during their time at MU.
It is very important for Masaryk University to stay in contact with international students after they graduate. If you would like to stay in touch and be kept up to date on happenings at MU, sign up for the newsletter for international alumni. Don't forget to share your story with the University and let us know what you have been up to in your professional and personal life since graduating.
Photo Gallery