Just two hours by train or bus from Brno lies Vienna, the beautiful and magical capital of Austria. It is a city of stunning architecture, rich history, and cultural diversity. This elegant and dazzling metropolis is brimming with art, culture, delicious food and friendly, stylish people. If you are in the mood for some hidden gems you won't find in the guidebooks, check out this list of places you should definitely visit.
1. Schönbrunn Palace and Palace Park
One of Vienna's top attractions, the Schönbrunn Palace is a must-see for students. The château, which served as the summer residence of the Habsburgs, is a UNESCO World Heritage Site and features 1,441 rooms, beautiful gardens, and even a zoo. The palace tour will give you a glimpse into the glamorous life of the imperial dynasty. And don't forget to visit its beautiful gardens, a quiet and peaceful place that includes a large open park with gardens, fountains, monuments and other beautiful landmarks.
2. St. Stephen's Cathedral
St. Stephen's Cathedral, also known as Stephansdom in German, is an iconic symbol of Vienna. The cathedral is one of the most important Gothic structures in Austria and is home to many treasures, including the pulpit, high altar, and the Vienna Neustadt altarpiece. Students can climb the 343 steps of the south tower to get a panoramic view of the city.
3. Prater Amusement Park
The Prater Amusement Park is a fun place for students to unwind and enjoy a variety of rides, games, and attractions. The Park is home to the world-famous Ferris wheel, which offers breath-taking views of the city. There are also many restaurants, cafés, and bars in the park, making it an excellent place to spend the whole day.
4. Volksgarten
Take a spring stroll through the beautiful city gardens and enjoy watching flowers in bloom. The Volksgarten is an exquisite garden with many different varieties of roses and other flowers. It is freely accessible for you to take beautiful photos or just relax for a while.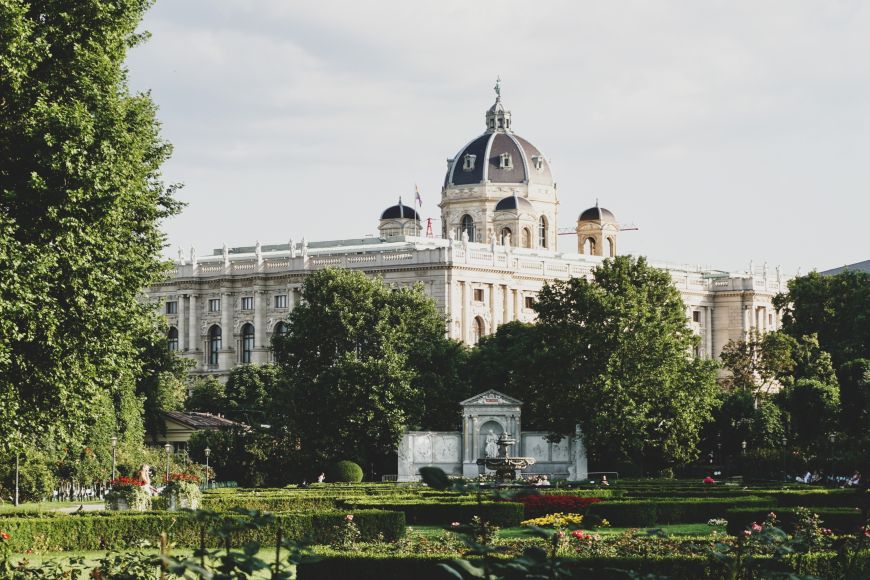 5. Monets Garten
Even if you are not the greatest connoisseur of Monet's works, you will be impressed by the exhibition in Monets Garten. You will feel as if you are immersed in paintings by famous impressionists.
6. The Belvedere Palace
The Belvedere Palace is a magnificent masterpiece of Baroque architecture. The palace houses the Austrian Gallery, which has an extensive collection of art, including works by Gustav Klimt, Egon Schiele, and Oskar Kokoschka. The palace gardens are also well worth a visit, especially during the summer months when they are in full bloom.
7. Gerstner K. u. K. Hofzuckerbäcker
Vienna's most famous cake – the Sachertorte – is worth trying. In the city centre there are plenty of classic cafés that offer the Sacher cake, but I definitely recommend Gerstner – a café with a unique atmosphere and comparably affordable prices. At the first floor you will find a shop with delicate chocolate confectionery, cakes and souvenirs.
8. Porgy & Bess
Vienna is not just about Beethoven or Mozart – there is a hidden gem of a jazz club too. Visit if you enjoy a cosy atmosphere and a mix of classic and modern jazz music.
9. Shakespeare and Co
No matter whether you are bookworm, book lover or you just like old historical places full of history, this welcoming bookshop in the heart of Vienna is the perfect spot to purchase a memento book.
10. Burggasse 24
A concept store with vintage clothes and an in-house café. If you are looking to acquire unique retro pieces and then take a break, you should definitely visit Burggasse 24 just outside the city centre.
11. Museumquater
In the heart of Vienna, you will find this enormous district full of galleries and art museums. Everyone will find art to their taste, from classic to contemporary, as well as modern installations and exhibitions. And if you are under 19, you will be able to visit many of the museums free of charge.
12. Ferstel Passage
A secret courtyard where you can find cafés, a French bistro, a chocolate shop, and an antique store. The place is truly magnificent and special.
13. The Naschmarkt
The Naschmarkt is Vienna's largest and most popular open-air market. It is an excellent place for students to sample local cuisine and experience the vibrant atmosphere of the city. The market has over 120 food and drink stalls, selling everything from fresh produce to traditional Viennese pastries.
Vienna will steal your heart. It is a city that offers students a unique blend of history, art, and culture. From the stunning architecture of Schönbrunn Palace and St. Stephen's Cathedral to the vibrant atmosphere of the Naschmarkt and the excitement of the Prater Amusement Park, Vienna has something for everyone. A visit to Vienna is an experience you will never forget.