Lefkada, Tahiti, French Riviera, the Alps or the High Tatras... Every summer, exotic resorts and high mountains attract a lot of tourists. The paradox is that many people who have traveled half the world barely know the surrounding of their own town. At the same time there is no need to travel too far when you want to see beautiful places. There are many natural and cultural sights and places of interest just outside of Brno. We chose five such places which you can easily reach within one hour and you won't even need to bring your passports or exchange Euros.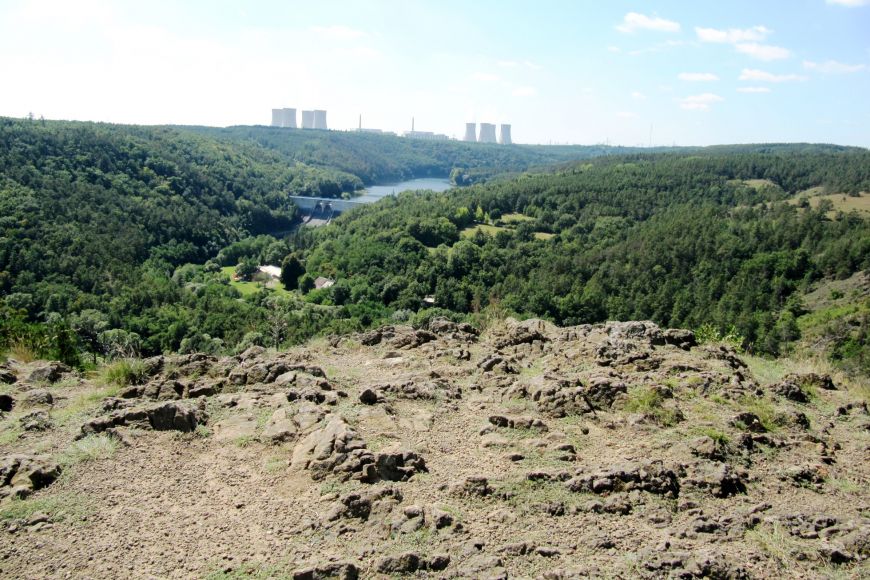 "Mohelenská hadcová step" National Nature Reserve
This national nature reserve of 57 hectares is located near the village Mohelno in the Třebíč region. Thanks to its unique climate, you can see very rare fauna and flora there. In the serpentine steppe, around 60 new species of animals and plants were described. "Mohelenská hadcová step" means "Mohelno serpentinite rocky steppe" and the name is derived from the bedrock of this area: the igneous rock serpentinite. It overheats easily in summer, and consequently the area has extremely hot and dry microclimate. During summer months, the temperature here is frequently 20 °C higher than the temperature of the surrounding areas. The regions was already inhabited during the Paleolithic Era, as flint findings proof. The steppe is criss-crossed by nature trails that take visitors through the most interesting parts of it. From the top, you can even glimpse the cooling towers of the nuclear power plant Dukovany which is also worth visiting. You can get here in 45 minutes by car, or make a slightly longer trip by bus.
Slavkov u Brna (Austerlitz)
This town, located only 20 km south-east from Brno, is famous for the Napoleonic Battle of Austerlitz that took place in 1805 several kilometers to the west from the town. The historical center is dominated by a Baroque château with 115 rooms and French and English gardens. It was here that Austria and France signer a truce after the Battle of Austerlitz. You can choose from two guided tours or visit the castle underground or the exhibition named Napoleon – Austerliz. The town still has remnants for its medieval fortification walls, a Jewish quarter with a synagogue, Church of the Resurrection of the Lord and Chapel of St. Urbanus. If you are intrigued by the historical battle, you might also want to visit the nearby Cairn of Peace Memorial with a museum and a chapel. On hot days, it could be a good idea to cool down a bit in the town's outdoor swimming pool.
Lednice Chateau
This splendid palace surrounded by extensive gardens lined with hedges and flower beds will literally take you to a fairy tale. The former residence of the Lichtenstein family, listed among the UNESCO world cultural heritage sights, has a unique atmosphere and visitors like to come back again and again. It is only a half-an-hour drive from Brno, or you can take a train to Podivín and walk the remaining few kilometers on foot. After you finish one of the many tours of the château, take a stroll in the surrounding parks and gardens where you can also see a greenhouse with exotic plants or admire birds of pray – their breeding has a long tradition in Lednice. This year, you can even see a cheetah hunting rabbits. Within the compound you can enjoy an old-time-like ride in a horse-drawn chaise or take a ride on a boat to the romantic John's Castle or the Minaret.
Nové Mlýny water reservoirs and Pálava
A complex of three water reservoirs on the river Dyje is located just under Pálava, only half an hour driving south from Brno. Or you can choose traveling by train: get off in Pouzdřany and walk the rest on foot. If you visit Nové Mlýny, you don't even need to travel to the seaside. Tourists can enjoy warm water and sunshine, of which Southern Moravia has more than enough. Many camping site offer a wide range of cultural and sport activities to their guests. Zumba or free open air movie screenings every night are not exceptional.
The reservoirs are also a popular destination for surfers and other water sport enthusiasts. From the lake you can cherish the amazing views of Pálava, where you could also go hiking whenever you've had enough of bathing. There are many other trip options in the area as well. Within a stone's throw from Nové Mlýny you can find the town Mikulov with its beautiful castle and great views of the whole region from the Holy Hill. Right next to the reservoir, a new aqua-park was built just a couple of years ago. And just over the Austrian border you can visit the well-known thermal spa Laa an der Thaya, easily reachable by bike or by bus.
Babí lom
This natural reserve located a short way north from Brno has been attracting hikers for a long time. Even Petr Bezruč, a famous Czech poet, became fond of this place and came here every year on the All Souls' Day to light a candle and commemorate his passed friends. The mysterious Babí lom attracts visitors by its conglomerate ridge of cliffs, towers and walls. The ridge is dominated by 15-meter tall lookout tower designed by a Brnovian architect Mojmír Korvas.The ridge is dominated by 15-meter tall lookout tower designed by Mojmír Korvas, a Brnovian architect. From up there, you can enjoy the view of the Brno area, Pálava and Svratecká hornatina (the hills around the Svratka river). Hikers heading to Babí lom mostly start their trip in the nearby village Vranov (only 20 minutes by a direct bus from Brno) where you can admire a Baroque pilgrimage church or a convent complex as well. There is also a Lichtenstein tomb in the village and a remarkable mechanical Nativity scene.
Next time, we will have a look at five destinations a bit further from Brno.