The Simulation Centre of the MU Faculty of Medicine has been in operation for two years. Over the span of four academic semesters, more than five thousand students went through the most modern educational facility in Europe and learnt that medicine can be taught in very innovative ways.
SIMU, a specialised modern medical education complex that cost CZK 1 billion to complete, is part of the Bohunice University Campus. Its purpose is to prepare students of medicine for situations where they will be making decisions about the treatment of patients in their future medical practice.
The MU Faculty of Medicine Simulation Centre building contains two underground and five above-ground floors. It is a teaching hospital where students of health professions have access to an emergency room, a heliport, operating theatres, a delivery room, intensive care units, standard hospital rooms and over a thousand simulators, with 70 fully equipped simulators in the dental department alone. All this is supervised by over 200 lecturers and teams of SIMU technicians.
Masaryk University invited Prime Minister Petr Fiala to the ceremonial presentation of the fully-functioning centre, which has already developed a very successful track record. He was able to visit several SIMU workplaces featuring different types of simulations. "We have prepared demonstrations of simulations in the emergency room, where they will bring an injured motorcyclist, in a delivery room with a simulator of a patient giving birth, and also simulations of paediatric examinations with a really faithful simulator of a crying baby. We will also showcase simulators for basic laparoscopy training and surgical suturing. He will meet the students who train on the simulators and the lecturers who actually teach them," said Jan Dvořáček, department head of SIMU, before the Prime Minister's arrival.
Petr Fiala and the other guests, including Minister of Health Vlastimil Válek, Minister of Science, Research and Innovation Helena Langšádlová, Senator Roman Kraus and Mayor of Brno Markéta Vaňková – were welcomed to SIMU by the Rector of Masaryk University Martin Bareš, Dean of the Faculty of Medicine Martin Repko and Head of the Department of Simulation Medicine Petr Štourač.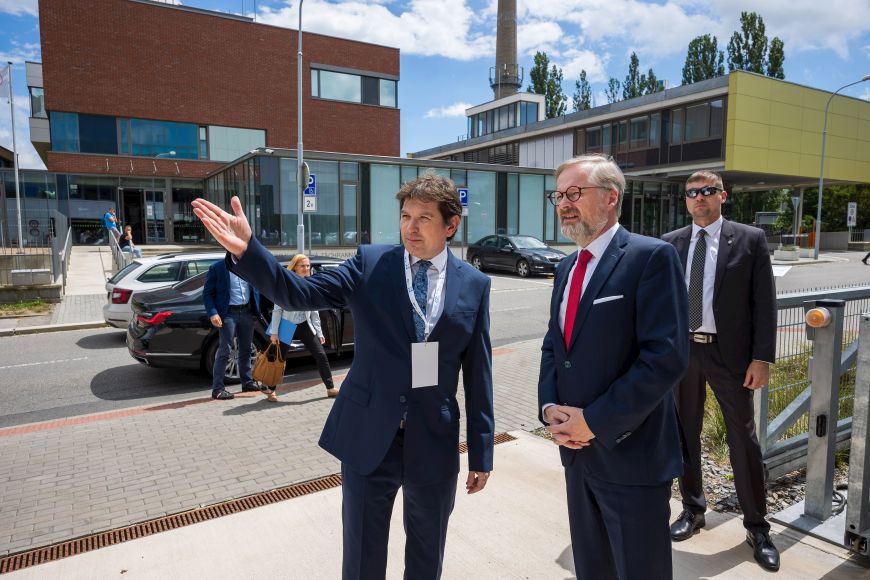 "SIMU is a bold project aiming not merely to copy existing simulation centres in Europe and around the world – our objective is to incorporate simulation medicine into all parts of the future physicians' education, and in that we have already succeeded. Masaryk University now sets the trends in medical education in the Czech Republic," said Rector Bareš in his introductory speech.
Dean Martin Repko stressed that SIMU works so well thanks to a talented team of people who put their knowledge, skills, energy and perseverance into it. "We have a building full of modern technology, yes, but the most important asset here are the people. Teams that can provide quality education to our students – that is what SIMU is all about. We have very good healthcare in the Czech Republic, but to continue providing it at the required level, we need quality education."
The technology that opens brand new opportunities for the training of medical students caught the Prime Minister's attention. "I was quite surprised how cutting edge the technologies and simulations here are. SIMU is something absolutely unique. Masaryk University has managed to build a leading educational centre that is competitive on a global level," said Petr Fiala, noting that he felt proud not only as Prime Minister of the Czech Republic but also as the former rector of Masaryk University.
At the end of the meeting, the current MU Rector Martin Bareš outlined further possibilities for the development of the University Campus in Bohunice. He mentioned the relocation of the Faculty of Pharmacy into a new building at the campus, bringing it closer to the Faculty of Medicine and Faculty of Science and the BioPharm Hub project. He further talked about developing the infrastructure for pharmaceutical, medical and natural science disciplines, which will also include a unique preclinical centre where students will engage in activities such as those conducted prior to clinical testing of new drugs.
Prime Minister Petr Fiala supports further development of the campus. "The only way for the Czech Republic to succeed and remain competitive is to bring industry and cutting-edge education and research closer together. That is why we must support and develop both. The Brno campus has already become a place that attracts and generates other projects, such as CEITEC and SIMU. They are the cutting edge in the global competition and the Czech Republic must build on them even further," added the Prime Minister.